Sexually Transmitted Demons
2014, Kevin Kolsch & Dennis Widmyer
A hopeful young starlet uncovers the ominous origins of the Hollywood elite and enters into a deadly agreement in exchange for fame and fortune.
2014, David Robert Mitchell
After carefree teenager Jay (Maika Monroe) sleeps with her new boyfriend, Hugh (Jake Weary), for the first time, she learns that she is the latest recipient of a fatal curse that is passed from victim to victim via sexual intercourse. Death, Jay learns, will creep inexorably toward her as either a friend or a stranger. Jay's friends don't believe her seemingly paranoid ravings, until they too begin to see the phantom assassins and band together to help her flee or defend herself.
2014, Jonas Alexander Arnby
Teenage Marie lives on a small island with her father and catatonic mother. Virtually friendless and sullen, Marie begins to experience frightening changes in her body that mark her as a dangerous threat.
2000, John Fawcett
The story of two outcast sisters, Ginger (Katharine Isabelle) and Brigitte (Emily Perkins), in the mindless suburban town of Bailey Downs. On the night of Ginger's first period, she is savagely attacked by a wild creature. Ginger's wounds miraculously heal but something is not quite right. Now Brigitte must save her sister and save herself.
Karyn Kusama Double Feature
2015, Karyn Kusama
While attending a dinner party at his former house, a man (Logan Marshall-Green) starts to believe that his ex-wife (Tammy Blanchard) and her new husband (Michiel Huisman) have sinister plans for the guests.
2009, Karyn Kusama
When a demon takes possession of her, high-school hottie Jennifer (Megan Fox) turns a hungry eye on guys who never stood a chance with her before. While evil Jennifer satisfies her appetite for human flesh with the school's male population, her nerdy friend, Needy (Amanda Seyfried), learns what's happening and vows to put an end to the carnage.
Families Will Fuck You Up
2018, Ari Aster
When the matriarch of the Graham family passes away, her daughter and grandchildren begin to unravel cryptic and increasingly terrifying secrets about their ancestry, trying to outrun the sinister fate they have inherited.
2016, Robert Eggers
In 1630 New England, panic and despair envelops a farmer, his wife and their children when youngest son Samuel suddenly vanishes. The family blames Thomasin, the oldest daughter who was watching the boy at the time of his disappearance. With suspicion and paranoia mounting, twin siblings Mercy and Jonas suspect Thomasin of witchcraft, testing the clan's faith, loyalty and love to one another.
Creepy White People Neighborhoods
1975, Bryan Forbes
Joanna Eberhart (Katharine Ross) moves to the quiet town of Stepford with her husband (Peter Masterson) and children. The town seems perfect -- maybe a little too perfect. There's something not quite right with the suburb's women: they're vapid, unfathomably devoted to housework and completely subservient to their husbands. Joanna teams up with another recent transplant, Bobby (Paula Prentiss), to investigate the mystery of Stepford's wives and makes a horrific discovery.
2017, Jordan Peele
Now that Chris (Daniel Kaluuya) and his girlfriend, Rose (Allison Williams), have reached the meet-the-parents milestone of dating, she invites him for a weekend getaway upstate with Missy and Dean. At first, Chris reads the family's overly accommodating behavior as nervous attempts to deal with their daughter's interracial relationship, but as the weekend progresses, a series of increasingly disturbing discoveries lead him to a truth that he never could have imagined.
1971, Steven Spielberg
David Mann (Dennis Weaver), a mild mannered electronics salesman, is driving cross-country on a two-lane highway when he encounters an old oil tanker driven by an unseen driver who seems to enjoy annoying him with dangerous antics on the road. Unable to escape the demonic big rig, David finds himself in a dangerous game of cat and mouse with the monstrous truck. When the pursuit escalates to deadly levels, David must summon his inner warrior and turn the tables on his tormentor.
1983, John Carpenter
Unpopular nerd Arnie Cunningham (Keith Gordon) buys a 1958 Plymouth Fury, which he names Christine. Arnie develops an unhealthy obsession with the car, to the alarm of his jock friend, Dennis Guilder (John Stockwell). After bully Buddy Repperton (William Ostrander) defaces Christine, the auto restores itself to perfect condition and begins killing off Buddy and his friends. Determined to stop the deaths, Dennis and Arnie's girlfriend, Leigh Cabot (Alexandra Paul), decide to destroy Christine.
1968, Roman Polanski
A young wife comes to believe that her offspring is not of this world. Waifish Rosemary Woodhouse (Mia Farrow) and her struggling actor husband Guy (John Cassavetes) move to a New York City apartment building with an ominous reputation and odd neighbors Roman and Minnie Castavet (Sidney Blackmer, Ruth Gordon). When Rosemary becomes pregnant she becomes increasingly isolated, and the diabolical truth is revealed only after Rosemary gives birth.
1976, Richard Donner
American diplomat Robert (Gregory Peck) adopts Damien (Harvey Stephens) when his wife, Katherine (Lee Remick), delivers a stillborn child. After Damien's first nanny hangs herself, Father Brennan (Patrick Troughton) warns Robert that Damien will kill Katherine's unborn child. Shortly thereafter, Brennan dies and Katherine miscarries when Damien pushes her off a balcony. As more people around Damien die, Robert investigates Damien's background and realizes his adopted son may be the Antichrist.
2015, Ted Geoghegan
Every 30 years, a lonely old house in the fields of New England wakes up and demands a sacrifice.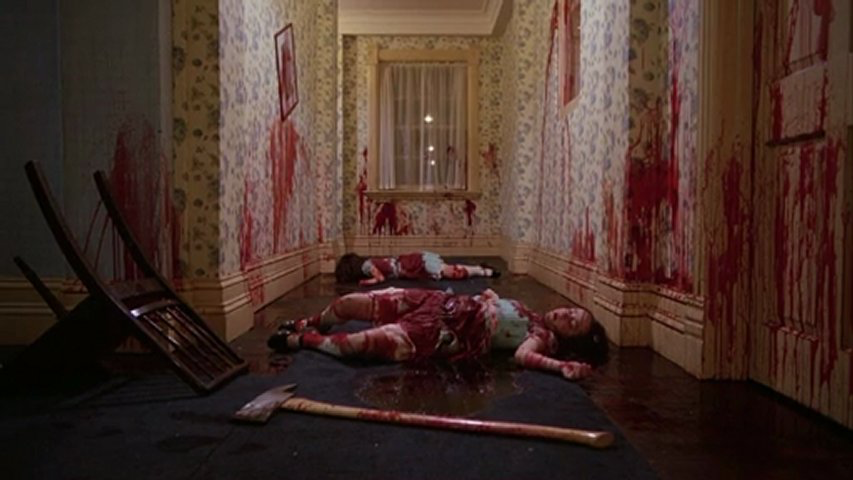 1980, Stanley Kubrick
Jack Torrance (Jack Nicholson) becomes winter caretaker at the isolated Overlook Hotel in Colorado, hoping to cure his writer's block. He settles in along with his wife, Wendy (Shelley Duvall), and his son, Danny (Danny Lloyd), who is plagued by psychic premonitions. As Jack's writing goes nowhere and Danny's visions become more disturbing, Jack discovers the hotel's dark secrets and begins to unravel into a homicidal maniac hell-bent on terrorizing his family.
1975, Steven Spielberg
When a young woman is killed by a shark while skinny-dipping near the New England tourist town of Amity Island, police chief Martin Brody (Roy Scheider) wants to close the beaches, but mayor Larry Vaughn (Murray Hamilton) overrules him, fearing that the loss of tourist revenue will cripple the town. Ichthyologist Matt Hooper (Richard Dreyfuss) and grizzled ship captain Quint (Robert Shaw) offer to help Brody capture the killer beast, and the trio engage in an epic battle of man vs. nature.
1990, Frank Marshall
After a nature photographer (Mark L. Taylor) dies on assignment in Venezuela, a poisonous spider hitches a ride in his coffin to his hometown in rural California, where arachnophobe Dr. Ross Jennings (Jeff Daniels) has just moved in with his wife, Molly (Harley Jane Kozak), and young son. As town residents start turning up dead, Jennings begins to suspect spiders, and must face his fears as he and no-nonsense exterminator Delbert McClintock (John Goodman) fight to stop a deadly infestation.
1972, John Boorman
Four city-dwelling friends (Jon Voight, Burt Reynolds, Ned Beatty, Ronny Cox) decide to get away from their jobs, wives and kids for a week of canoeing in rural Georgia. When the men arrive, they are not welcomed by the backwoods locals, who stalk the vacationers and savagely attack them in the woods. Reeling from the ambush, the friends attempt to return home but are surrounded by dangerous rapids and pursued by a madman. Soon, their canoe trip turns into a fight for survival.
The Texas Chain Saw Massacre
1974, Tobe Hooper
When Sally (Marilyn Burns) hears that her grandfather's grave may have been vandalized, she and her paraplegic brother, Franklin (Paul A. Partain), set out with their friends to investigate. After a detour to their family's old farmhouse, they discover a group of crazed, murderous outcasts living next door. As the group is attacked one by one by the chainsaw-wielding Leatherface (Gunnar Hansen), who wears a mask of human skin, the survivors must do everything they can to escape.
1944, George Cukor
After the death of her famous opera-singing aunt, Paula (Ingrid Bergman) is sent to study in Italy to become a great opera singer as well. While there, she falls in love with the charming Gregory Anton (Charles Boyer). The two return to London, and Paula begins to notice strange goings-on: missing pictures, strange footsteps in the night and gaslights that dim without being touched. As she fights to retain her sanity, her new husband's intentions come into question.
1955, Henri-Georges Clouzot
In this classic of French suspense, the cruel and abusive headmaster of a boarding school, Michel Delassalle (Paul Meurisse), becomes the target of a murder plot hatched by an unlikely duo -- his meek wife (Vera Clouzot) and the mistress he brazenly flaunts (Simone Signoret). The women, brought together by their mutual hatred for the man, pull off the crime but become increasingly unhinged by a series of odd occurrences after Delassalle's corpse mysteriously disappears.
1986, David Cronenberg
When scientist Seth Brundle (Jeff Goldblum) completes his teleportation device, he decides to test its abilities on himself. Unbeknownst to him, a housefly slips in during the process, leading to a merger of man and insect. Initially, Brundle appears to have undergone a successful teleportation, but the fly's cells begin to take over his body. As he becomes increasingly fly-like, Brundle's girlfriend (Geena Davis) is horrified as the person she once loved deteriorates into a monster.
American Werewolf in London
1981, John Landis
David (David Naughton) and Jack (Griffin Dunne), two American college students, are backpacking through Britain when a large wolf attacks them. David survives with a bite, but Jack is brutally killed. As David heals in the hospital, he's plagued by violent nightmares of his mutilated friend, who warns David that he is becoming a werewolf. When David discovers the horrible truth, he contemplates committing suicide before the next full moon causes him to transform from man to murderous beast.
1955, Charles Laughton
The Rev. Harry Powell (Robert Mitchum) is a religious fanatic and serial killer who targets women who use their sexuality to attract men. Serving time in prison for car theft, he meets condemned murderer Ben Harper (Peter Graves), who confesses to hiding $10,000 in stolen loot. Released from jail, Powell is obsessed with finding the money, and he tracks down Harper's widow, Willa (Shelley Winters), and her two children, John (Billy Chapin) and Pearl (Sally Jane Bruce).
1960, Alfred Hitchcock
A Phoenix secretary embezzles $40,000 from her employer's client, goes on the run, and checks into a remote motel run by a young man under the domination of his mother.
2001, Guillermo del Toro
After losing his father, 10-year-old Carlos (Fernando Tielve) arrives at the Santa Lucia School, which shelters orphans of the Republican militia and politicians, and is taken in by the steely headmistress, Carmen (Marisa Paredes), and the kindly professor, Casares (Federico Luppi). Soon after his arrival, Carlos has a run-in with the violent caretaker, Jacinto (Eduardo Noriega). Gradually, Carlos uncovers the secrets of the school, including the youthful ghost that wanders the grounds.
2007, J.A. Bayona
Laura (Belén Rueda) has happy memories of her childhood in an orphanage. She convinces her husband to buy the place and help her convert it into a home for sick children. One day, her own adopted son, Simón (Roger Príncep), disappears. Simon is critically ill, and when he is still missing several months later, he is presumed dead. Grief-stricken Laura believes she hears spirits, who may or may not be trying to help her find the boy.
A Pretty Lady is Stuck in a Gothic Manor with Weird Children
2001, Alejandro Amenábar
Based on the Henry James story "The Turn of the Screw," a psychological thriller about a woman who takes a governess job for two orphans in a Victorian home. She begins to see what she believes are ghosts and suspects the children's bizarre behavior is the result of supernatural powers.
1961, Jack Clayton
Based on the Henry James story "The Turn of the Screw," a psychological thriller about a woman who takes a governess job for two orphans in a Victorian home. She begins to see what she believes are ghosts and suspects the children's bizarre behavior is the result of supernatural powers.
We Need To Talk About Kevin
2011, Lynne Ramsey
Eva Khatchadourian (Tilda Swinton) is a travel writer/publisher who gives up her beloved freedom and bohemian lifestyle to have a child with her husband, Franklin (John C. Reilly). Pregnancy does not seem to agree with Eva, but what's worse, when she does give birth to a baby boy named Kevin, she can't seem to bond with him. When Kevin grows from a fussy, demanding toddler (Rocky Duer) into a sociopathic teen (Ezra Miller), Eva is forced to deal with the aftermath of her son's horrific act.
2014, Jennifer Kent
A single mother, plagued by the violent death of her husband, battles with her son's fear of a monster lurking in the house, but soon discovers a sinister presence all around her.
1992, Bernard Rose
Skeptical graduate student Helen Lyle (Virginia Madsen) befriends Anne-Marie McCoy (Vanessa Williams) while researching superstitions in a housing project on Chicago's Near North Side. From Anne-Marie, Helen learns about the Candyman (Tony Todd), a knife-wielding figure of urban legend that some of her neighbors believe to be responsible for a recent murder. After a mysterious man matching the Candyman's description begins stalking her, Helen comes to fear that the legend may be all too real.
1986, Robert Harmon
While transporting a car from Chicago to San Diego, Jim Halsey (C. Thomas Howell) picks up a hitchhiker named John Ryder (Rutger Hauer), who claims to be a serial killer. After a daring escape, Jim hopes to never see Ryder again. But when he witnesses the hitchhiker murdering an entire family, Jim pursues Ryder with the help of truck-stop waitress Nash (Jennifer Jason Leigh), pitting the rivals against each other in a deadly series of car chases and brutal murders.
Don't Fuck with Teenage Girls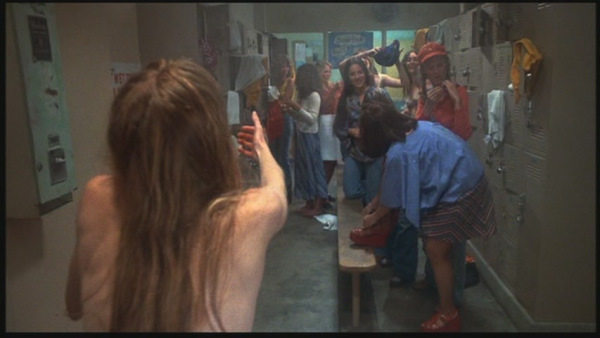 1976, Brian DePalma
In this chilling adaptation of Stephen King's horror novel, withdrawn and sensitive teen Carrie White (Sissy Spacek) faces taunting from classmates at school and abuse from her fanatically pious mother (Piper Laurie) at home. When strange occurrences start happening around Carrie, she begins to suspect that she has supernatural powers. Invited to the prom by the empathetic Tommy Ross (William Katt), Carrie tries to let her guard down, but things eventually take a dark and violent turn.
2007, Mitchell Lichtenstein
Dawn (Jess Weixler) is an active member of her high-school chastity club but, when she meets Tobey (Hale Appleman), nature takes its course, and the pair answer the call. They suddenly learn she is a living example of the vagina dentata myth, when the encounter takes a grisly turn.
2015, Todd Strauss-Schulson
Max, recently orphaned, goes to see a screening of a B-horror movie that her mother made 20 years earlier. When Max and her friends find themselves in the world of the film itself, they must apply their knowledge of horror tropes to survive.
2012, Drew Goddard
When five college friends (Kristen Connolly, Chris Hemsworth, Anna Hutchison, Fran Kranz, Jesse Williams) arrive at a remote forest cabin for a little vacation, little do they expect the horrors that await them. One by one, the youths fall victim to backwoods zombies, but there is another factor at play. Two scientists (Richard Jenkins, Bradley Whitford) are manipulating the ghoulish goings-on, but even as the body count rises, there is yet more at work than meets the eye.
2007, Bruce A. Evans
Well-respected businessman Earl Brooks (Kevin Costner) has a secret: Beneath his family-man facade lurks a murderous alter-ego named Marshall (William Hurt). Brooks struggles with his addiction to killing, but Marshall enjoys his grisly hobby too much to let go. Finally, Brooks resolves to commit one final murder, but a voyeur (Dane Cook) witnesses it and blackmails him to continue. With a detective (Demi Moore) hot on his trail, Brooks/Marshall must spin an increasingly elaborate web.
2013, Jim Mickle
The Parkers, reclusive people who cling to ancient customs, find their secret lives threatened when a torrential downpour and the death of the family matriarch forces daughters Iris and Rose to assume special responsibilities.